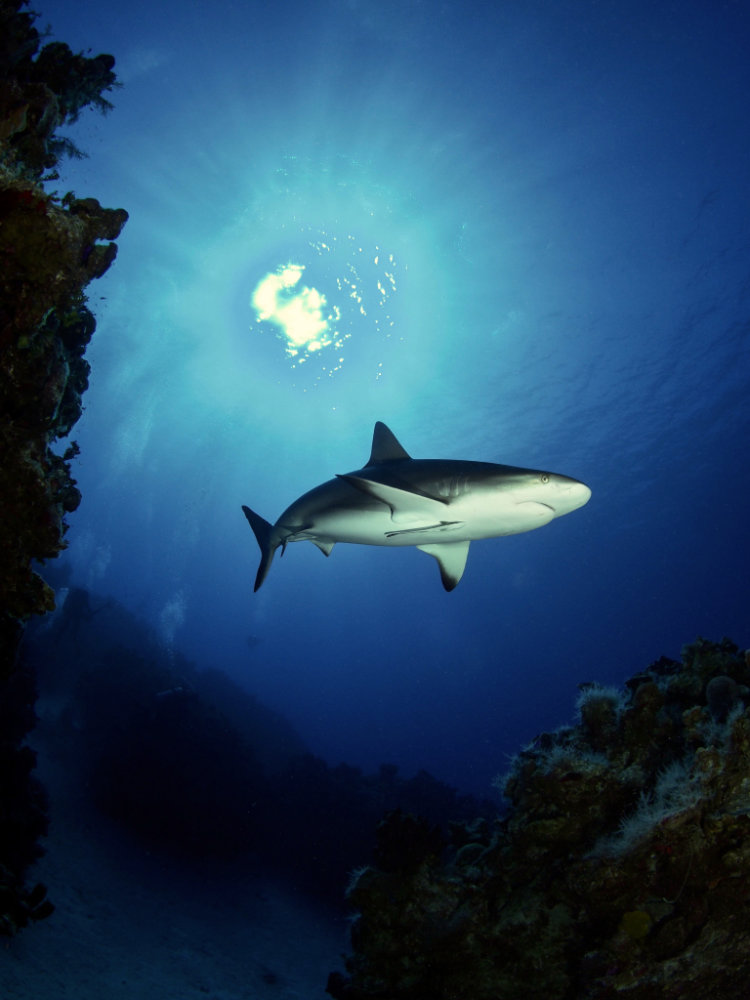 When I was young, I did a fair bit of traveling to dive destinations. I had opportunities to scuba dive in as far away destinations as Japan, the South Pacific, much of the Caribbean and elsewhere. It is hard to recall all the places I've been diving, but one destination that has always stood out is Riding Rock Resort on San Salvador Island in the Bahamas.
San Salvador is unique compared to the rest of the Bahamas. It is a remote sea mount 360 miles from Miami, and is the Eastern and Southernmost island in the Commonwealth. The rest of the Bahamas is made up of continental islands, the exposed remains of continental plates that have otherwise eroded into the ocean.
Its unusual geology and remoteness make San Salvador a standout diving destination. Visibility often exceeds 150 feet, which is remarkable by itself. Since the island rises from the extreme depths of the Atlantic Ocean, it attracts species like the rare scalloped hammerhead, dolphins and even the occasional whale shark.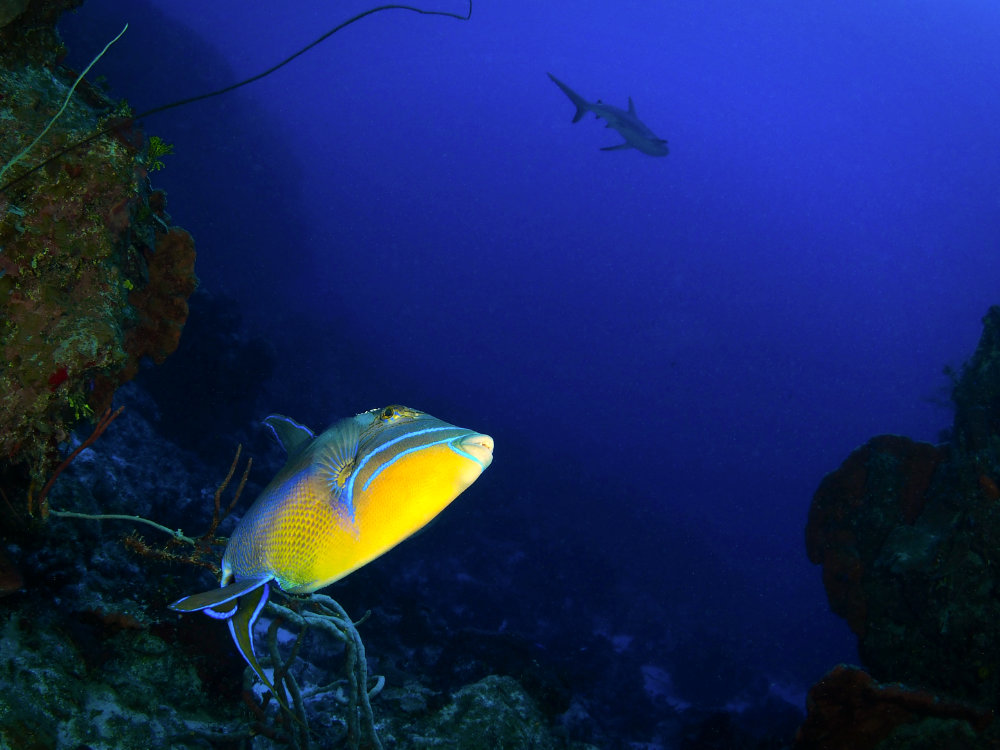 I first visited and dived there in the mid-nineties and was struck by the shocking visibility and vertical topography, punctuated by cracks, overhangs and cavernous swim-throughs. Riding Rock used to be the unofficial headquarters for Skin Diver Magazine, so it enjoyed a huge amount of press back in the day. The resort thrived as a bucket list destination for anyone with an itch to blow bubbles.
Today, Riding Rock has become more of a hidden gem. It is something of a personal mission for me to seek out less known diving destinations and introduce them to as many traveling divers as possible. I've written quite a bit about the Reef House Lodge in Roatan, Honduras for much the same reason. Divers seeking natural, remote, personal experiences over nightlife and hot stone massages should definitely add these to their list.
Diving on San Salvador, Island
San Salvador diving, for the most part, is wall diving. Most dive sites have a mooring pin set in about 40 feet of water, perched at the edge of the drop off. Only two dive operators serve San Salvador Island. One is obviously Riding Rock. The other is the nearby Club Med. Club Med isn't primarily a diving destination, so they only access about a dozen of the 45+ dive sites in close proximity to the resort.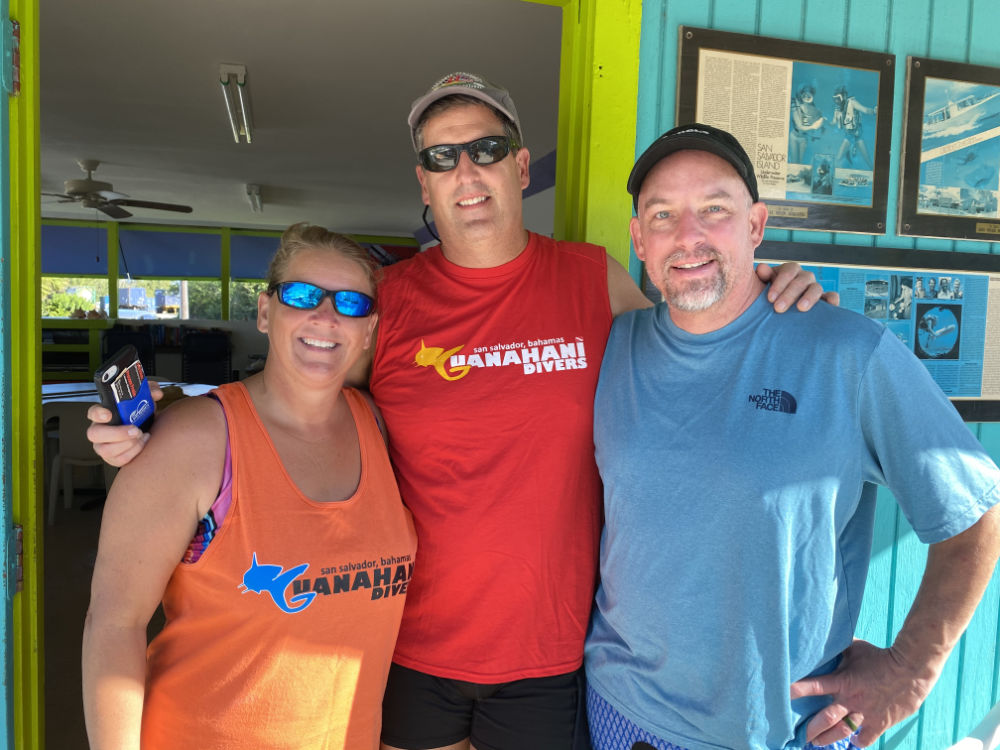 For the last few years, Riding Rock dive operations have been run by Guanahani Divers. I am pretty lucky. I travel to dive destinations all over the world for "work." I have opportunities to experience what it is like to dive with every type of dive operation, from sprawling resorts to small independent boats. Guanahani Divers is very likely the best run diving operator I have ever worked with. Everything, from equipment to their building and boats, is impeccably maintained, and they go out of their way to make things fun and to ensure everyone feels welcome and safe.
As luck would have it, most dive sites are within 10-15 minutes of the dock, which is just a short, tropical walk from your room. When Guanahani Divers began serving San Salvador Island's Riding Rock Resort guests, only about 15-20 dive sites had been in service—odd, considering that the location was THE go-to scuba diving destination a few decades earlier. Since then, Guanahani has located most, if not all, of the signature dive sites from the glory days, as well as discover quite a few new ones.
It's surprising to learn that many dives sites are within a hundred yards of each other, yet they are entirely different experiences. I'll save dive site descriptions for a future post, but suffice to say San Salvador diving is unique, varied and spectacular.
Shark diving in the Bahamas
The Bahamas is widely known for shark diving opportunities. Epic Diving and Stuart Cove's Dive Bahamas are two of many diving companies that cater to divers seeking close up encounters with the toothy predators. Often, shark diving companies attract sharks by feeding them and diving at specific times local sharks grow accustomed to. I don't personally take issue with the practice, since reputable operators like these have an excellent safety record and the sharks can easily find plenty to eat on their own.
I also believe benign shark encounters tend to make excellent ambassadors out of those divers that experience them.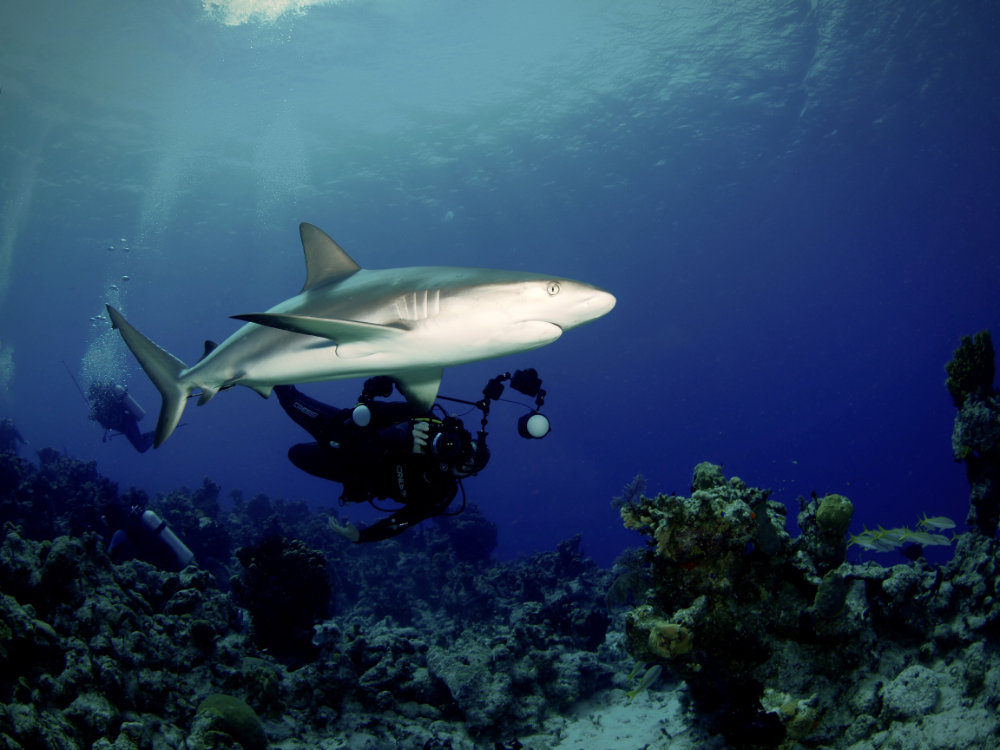 Riding Rock Resort has shark diving, although it doesn't offer "shark diving." Let me explain. San Salvador, Bahamas is a very sharky place to dive. In addition to numerous gray reef sharks and lemon sharks, sightings of other species, including hammerheads, are not uncommon. Even the extremely rare scalloped hammerhead is occasionally seen here, and on the very first dive of my recent trip, a whale shark made a brief appearance!
Out of 17 dives over the course of 6 days, sharks featured prominently throughout 16 of them. Partly, this is because of the lionfish infestation that's impacting much of the Atlantic and Caribbean. As lionfish are removed from the reef, larger critters are naturally attracted to the dying fish commotion and the smell of blood drifting through the water. Large eels and groupers show great interest also.
The efforts have made lionfish quite scarce in the water surrounding San Sal, which is great news for the fragile ecosystem.
It's not entirely lionfish culling that's attracting sharks. I remember similar experiences when I visited Riding Rock Resort two and a half decades ago, though not during every dive. For divers looking for a true, wild shark experience, San Salvador, Bahamas is the hands down winner. At least it is for me.
Where to dive in the Bahamas? Riding Rock Resort!
Honestly, the diving is great pretty much anywhere in the Bahamas, but San Salvador Island isn't just "anywhere in the Bahamas." Only about 800 people live there year round, so the population booms every time a dive group comes to visit. The locals are friendly and truly appreciate you for spending time on their tiny island paradise.
But, the diving… The diving is otherworldly. I've never been to a place where salty old divers emerge after every dive giggling like kids over what they just experienced. Every dive is like that. The visibility, the groupers, the walls, the turtles, the sharks—all of it!
If you've been there, you know. If you haven't, go!