Roatan Diving: A Week at The Reef House Resort
Roatan diving is renown world-wide for it's year-round great conditions, unspoiled reefs and diversity of marine life. The tiny island makes just about every list as a premier diving destination. My first Roatan visit was about a month ago.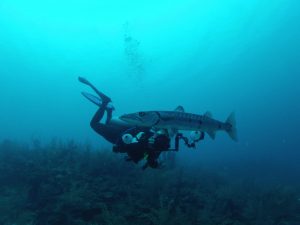 Roatan lies about 60 miles from mainland Honduras. Having been following recent travel warnings for US travelers to Honduras, I was a little bit nervous traveling to that part of the world. In reality, security issues, political unrest, etc. are limited to small areas on the mainland. There was no evidence of that during our stay. Now that I've been there, I can't imagine how there would be.
Roatan locals are incredibly welcoming. Most them I met either grew up on the island or moved there to get away from the hustle of living in the US or Europe. It makes perfect sense to me.
Getting to Roatan
Traveling to Roatan can be easy or a massive pain, depending on where you live. In my case, it's a pain, but I also didn't book my own flights this time around. It took four airports and almost 25 hours to finally arrive at the Reef House Resort. Getting home took even longer. However, had I made my own travel plans, I'm pretty sure I could have shortened it.
If when you go, do your best to avoid returning through Atlanta. The customs agents are friendly, and TSA is respectful, but it's just so busy it takes forever to get through. Personally, that mess provided the inspiration I needed to apply for Global Entry. After next Tuesday, I'm done with the slow lines.
The Reef House Resort
There are quite a few well known scuba diving resorts in Roatan. Coco View, Anthony's Key, Turquoise Bay and at least a dozen others. They all offer great diving, and most will go out of their way to make sure your Roatan dive vacation is incredible.
What none of these share is access to remote, East-end Roatan dive sites. While they may run out there once in a while, long boat rides aren't what most divers look forward to.
The Reef House is uniquely located, and has a very different vibe than the more popular dive resorts. While there, I learned that the Reef House is the oldest dive resort in Roatan. It began as a bone fishing lodge back in the 50's. They still host fishermen. In fact, during my stay, probably half the guests were there to fish the flats right outside the resort.
That said, the Reef House definitely caters to divers. They offer morning and afternoon dives daily, plus night diving mid-week. More on that shortly.
Reef House is an all-inclusive dive resort
The Reef House feels more like hanging out at a friend's house than going to a "resort." Davey, the manager tells me they're going to "re-brand" as the Reef House Lodge. That feels more appropriate to me. When I think of a resort, I imagine spa days, golf and hot stone massages.
Personally, I don't want my nails done. I want to go diving—and I want a cold beer or two waiting for me when I get back.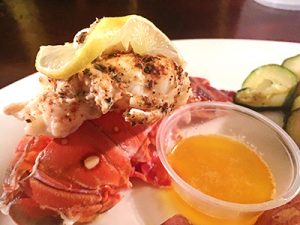 You get more than a cold beer, though. The food at the Reef House is off the hook. Three meals a day, served more or less family style. The night we arrived, it was coconut shrimp. Other nights we had lobster, pork chops, and even a full-course "Thanksgiving" dinner, with apple pie and everything else you would expect. Breakfast is great. Lunch is great. Everything's great, and honestly the best deal in the Caribbean. If I remember right, two people can eat and dive for a week for about $1900. A group of 8 can go for about $800 a person. Seriously. Try that at Coco View!
The diving in Roatan… East
This is why we dive. Roatan diving means beautiful, unspoiled reefs, breathtaking walls, abundant marine life of every description. More than that, you'll be allowed to do your dives without limits on bottom times or the insistence that you stay in the group. You'll want to keep Davitt, the divemaster, in sight because he knows where the seahorses are. He knows where everything is.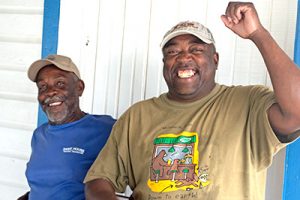 His dive site briefings are classic. He tends to add a zero when speaking about depths. So, don't be surprised when he announces your depth to be 900 feet.
I have to admit, I tested him a few times. On one dive, he suggested a max depth of about 70 feet. I almost doubled that–in Davitt's full view. Once back on the boat, in casual conversation he asked me how deep I was. Looking him in the eye, I told him, "80 feet." He just winked.
For the record, I absolutely do not advocate ignoring your divemaster. I am a technical diving instructor with hundreds of logged dives deeper than 200 feet—Many of them over 300 feet. Going to the recreational dive limit in perfect conditions (with two Shearwater dive computers, BTW) may be routine for me, but it's right on the edge for the average diver. Incidentally, 130 feet is a big dive, no matter how much experience you have. I take it very seriously. A good rule of thumb is, don't be a jerk… or, an idiot.
Roatan diving without other divers
Imagine being on an island that is exceptionally popular among divers, and not seeing other divers. That's Roatan's East end. I did 18 dives in 6 days. I could have crammed in more, but it was a working trip for me. Even so, during that time, we only saw another dive boat once—on the signature Roatan dive, "Calvin's Crack."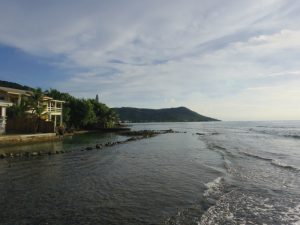 Calvin's Crack is West of the Reef House. It is a "must see" when diving the South side of Roatan, and other resorts dive the site regularly. For the record, it was after the dive when we saw a Coco View boat moored at another nearby dive site. We had Calvin's Crack to ourselves (that didn't come out right).
The dive itself is beyond cool. You'll descend into about 30 feet, then head a short distance to the East where you could easily miss an opening just large enough to fit a diver. That's the crack. I oriented myself so that I could "key hole" my way through without changing my trim.
Once inside, the crack opens up with shear reef walls to your left and right. The bottom is sand, sloping to about 100 feet before depositing you along the outer wall. It reminded me a little bit of Devil's Claw on San Salvador in the Bahamas. I love dives like this!
The majority of our dives were in the other direction. Here, you'll experience Eastern Roatan diving through dive sites like Paradise Wall and Donkey Wall. The name "Paradise Wall" makes sense to me because it truly is. However, I didn't see a single donkey on Donkey Wall. What I did see, though, is one big-ass green moray eel. I have never seen so many daytime morays hunting in the open like I have on Roatan.
This one stands out though, because it was aggressive. After swimming up and posing in front of my dive buddy's dome port, this green giant bit my camera. It happened fast, and the eel actually left teeth marks.
Like everywhere in the Caribbean, Lionfish have taken up residence in Roatan. Dive guides often carry spears and will kill lionfish as they find them. Some end up on the menu (I don't think Reef House serves them though), while others are left for the eels. I suspect these eels have learned divers = food.
The good news is eels eat lionfish. The science is still out whether they eat them live, but some studies suggest they do. Even dead, the eels have to eat lionfish head first to avoid being skewered with their venomous spines on the way down. It is quite a sight.
Planning your Roatan dive vacation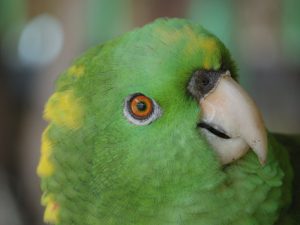 If you are ready to experience Roatan diving first hand, consider the Reef House Resort. I've been to a lot of dive destinations over the years, and can honestly say the Reef House is truly unique. It's not just the diving. I have never been to a place where I felt like a part of daily life. You really need to experience it, but it's the kind of place you want to keep to yourself.
So, when you plan your next dive vacation, be sure to put the Reef House in Roatan on your short list. Also, be sure to send pictures when you get there.