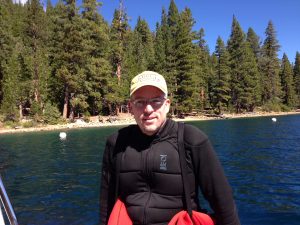 Over the weekend, I taught two classes, a PADI Drysuit Specialty Course and a PADI Altitude Diving Specialty Course. Being near Lake Tahoe, both are popular courses, so I spend a lot of time in Tahoe's frigid water. On Saturday's dives, we were fighting 80+ MPH wind gusts, and the beach looked like a hurricane zone. Between the wind, snow and 41 degree water, it was quite an experience for the student.
Yesterday was much calmer, with even a little sun poking through from time to time. For these dives, I had my first opportunity to take a brand new, Fourth Element Halo 3D drysuit undergarment out for a test drive. The Fourth Element website goes into great technical detail about "body mapped insulation" and "SpaceTek compression resistant panels" but companies make up names for things all the time, and I just wanted to dive the thing and see if I stay warm.
That said, it is precisely those compression resistant panels that I was most interested in. In essence, Fourth Element places corrugated panels on the chest, front upper leg and other strategic areas that are compressed when underwater in a normal diving position. Those panels are rigid enough to keep their loft, but not inflexible, and not in positions where they interfere with movement.
For my test, I wore only a very thin wicking base layer and the suit. I had on a pair of wool socks and dry gloves as well, but nothing to skew my experience with the Halo 3D.
As I mentioned, the water temperature was between 41 and 42 degrees, depending on which computer you believe, so we're not screwing around. It's cold! One thing about Fourth Element is that they think everything through. They don't just bolt on features and list them in sales literature. Their gear is obviously designed by divers with a clue about what divers need.
Among those features are correctly positioned holes for p-valves that your wouldn't even notice unless you needed them, and they weren't there. A biggie for me is the stirrups. Every other drysuit undergarment I've used has them, but all are thin, stretch out over time, and slip right off my heel when jamming my legs into my drysuit. Fourth Element made them a major component of the leg of the suit and they actually work to keep the leg from bunching up around your calf or knee. Anyone who knows what this is like will appreciate that.
Fourth Element Halo 3D Construction
The undergarment itself is extremely well constructed. It's fleecy on the inside, easy to move in and very comfortable. I like that there's no extra bulk, but putting it on, I was worried that I might be in for a cold dive because of that.
Suited up, we headed into the water. I should mention that my drysuit is a DUI CF200x, in case you're wondering. On the surface, I really didn't even feel the cold-especially with the dry gloves. Heading under, aside from that initial brain-freeze you get with a wet hood, I felt warm and comfortable like I hadn't ever in water this cold. With the Fourth Element Halo 3D, I never realized how much compression in the chest area leads to loss of insulation, but it was very obvious that these panels made a huge difference.
On a typical dive, I'll begin to feel the cold in the first 10 or 15 minutes, but can stay relatively comfortable for an hour or more. (In technical diving, cold is definitely the limiting factor for me.) With the Halo 3D, I really wasn't even aware of the cold, except in my feet and finger tips, for a good 30 minutes. I remember thinking how funny it is that I froze in 77 degree water in Hawaii in December, but here at 41 degrees, I was perfectly warm!
By then my student was getting pretty cold, so we surfaced at the 38 minute mark. I was very excited about the performance of the Halo 3D, and my decision to buy one ASAP was already made. The second dive ran 39 minutes and was pretty much a carbon copy of the first.
That was with nothing but the Halo 3D. Typically, I'd add an extra layer of fleece, and sometimes stick those chemical toe warmers to each sock. In the end, the Fourth Element Halo 3D is by far, the most comfortable and warmest drysuit undergarment I have ever worn. At over $500, it's not cheap. But, chances are, if you've been diving a while, you've already spent more than that trying out other undergarments, and compared to all the other gear, what's another 500 bucks to stay warm?
So, to sum up. Mine is already ordered. What more can I say?
To follow up: I got a call from Jeff at Sierra Diving Center. He had just hung up the phone with someone at Fourth Element who'd read my review and wanted to make it known that Sierra Diving Center is one of only two Fourth Element test centers in North America. That means anyone wishing to test dive Fourth Element undergarments can do so through the shop. The store number is (775) 825-2147.
If you've never been diving in a drysuit, they can make arrangements for you to do a drysuit orientation dive, or even take the drysuit certification course at the same time. If you'd like to do those dives with me, just ask. I'll look forward to getting in the water with you.