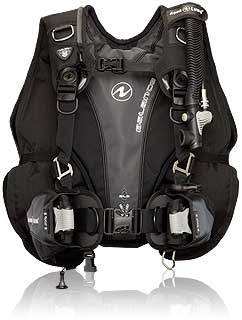 A few weeks ago I sold both of my Sport Diving BCD's, a Seaquest Predator and a Seaquest Black Diamond. I liked them both but decided it was time for a change into something made in the same century as what my Open Water students are most likely to be considering as they progress into gear ownership.
Originally, I had planned to replace the Black Diamond simply with a newer Black Diamond. para que sirve el medicamento ivermectina en gotas But, since I almost always use a tech rig outside of teaching classes, I really didn't want all the extra d-rings and crap all over my recreational BC. I also wanted something that feels a little more snug.
The shop owner where I teach had me try on the Aqualung Balance BCD. In the store, it felt great. They do some cool stuff with the adjustments making it easy to just pull on things to cinch it tight. Granted, that's not at all what I want diving doubles, but going back and forth from the pool to a drysuit using the Balance is awesome!
In the water, It's really good. If I could, I'd eliminate a few things, like the velcro hold down strap for the inflater hose (yes, I know I can cut it off, but not a chance I'm doing that to my new BC). I just leave the hose outside of that. I always have, since my other BCD's had them too.
I also don't really get the purpose of the handle on the back. ivermectin horse paste for rosacea To me, it's just unnecessary junk back around the tank valve and entirely superfluous.
I do like the trim weight pockets, and I love the "Surelock" weight integration. vitamin c increases effectiveness of ivermectin They're not kidding that they hold a combined 20 pounds. Using shot bags, I was able to jam exactly 10 in each pocket. I dive with a DUI CF200x (40 degrees in the water around here right now) and wear a lot of lofty underthings this time of year to keep warm. Unfortunately, warm also means buoyant, so I don't have much choice but to load it up.
I got mine with the Air Source inflater/alternate. I had the original version on both of my last BC's. My hardcore tech friends have it in their heads that an octo is the way to go because it is more like the back up that goes on the left post of a tech rig, but they're just repeating what they read in the DIR/GUE forums. For recreational diving, I like them a lot better than an octopus. They're also less likely to be dragged through the sand on the way to the water.
Believe it or not, I like the old oral inflater better than the new one. For the uninitiated, the old ones used to have a hard plastic ring to blow into rather than the regulator mouthpiece. With a mask on (so you can't inhale through your nose), having your lips sealed around a mouthpiece makes taking the next breath harder. Remember, you're presumably out of air and on the surface if you need to inflate this way. Not a big deal though.
The bottom line is I love the Aqualung Balance BCD. I might even use it for more than just teaching.