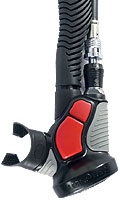 For recreational diving, I'm a big fan of what's becoming known as the "safe second" stage BCD inflator/alternate air source. I very recently switched from the original SeaQuest Air Source, to the Aqualung Airsource 3.
I mentioned in another post that I like the original better. I made two more dives with it today, his time with a student, and have a few more thoughts. Something that really bugs me is the position of the inflator button. what company makes stromectol It's on top alongside the deflator button.
My complaint is that it's not where the inflator is generally located. how to use ivermectin pour on for chickens I'm very accustomed grabbing it in my palm and having a button under a finger tip. The new one just doesn't feel right. I'm sure I'll get used to it, but right now, I'm fumbling with it quite a bit.
What I really like about safe seconds in general is that it is simply a less cluttered rig, requiring one less hose than an octopus. I also like having my alternate in a place that I locate dozens of times throughout the dive.
The regulator on the Aqualung Airsource 3 is fantastic. It is much smoother to breath than the original. All in all I like it a lot, and I really needed to move into this century with some of my dive gear. heeler reaction to ivermectin