Seven Dive Locations You Must Visit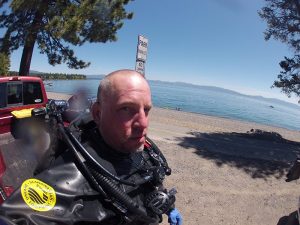 The image of the ocean-side vacation is one we all keep catalogued away—a still-frame we return to in imagination from time to time. It's a place where your only concern is whether to go on to the next sand-dusted page of a book you've been too busy to start until now, or walk along the low-tide, watching footprints wash away: an elegant reminder of the impermanence of your stay in a place like this.
But it's the diver that pushes passed the natural boundaries of the tourist, melding into a world unburdened by the things you, or I, could ever truly separate ourselves from. It's the diver that gets to experience the journey to a place both hostile and serene; at once loud with life, and absent of familiar sounds.
Our world is filled with places like this, and whether you're a seasoned professional or a budding dive enthusiast, these seven locations are worth adding to your bucket list––if not to say you've been there, then to reach some new depth in your relationship with this vast place you call home:
Diving the Galapagos Islands
The Galapagos Islands offer an underwater experience unlike any other. From Cousins Rock, where thriving sea life and vibrant coral clinging to rock attracts divers from all over the globe, to the remains of a 100 kilometer crater known as Gordon Rocks—or, "The Washing Machine" for the initiated—where swimming with hammerheads is the norm, the Galapagos offers a dive experience unlike any other.
Travel companies like Myths and Mountains specialize in exotic travel destinations like the Galapagos Islands. For articles from Galapagos travel experts, visit the Myths and Mountains Blog. You can explore one of the most desirable locations on the planet for diving and non-diving travelers.
Point Lobos Diving
If you can get passed the cold, pacific-coast water, Point Lobos will undoubtedly welcome you with some of the most stunning sights you'll ever see as a diver. As Point Lobos is a California State Park, divers can count on a rich experience with a variety of sea life and natural structures. If you're considering a dive at Point Lobos, be sure to check out the 3D model put together by the local divers, and map out the ideal dive in this one-of-a-kind location.
Kona Manta Ray Night Dive
The Manta Ray night dives in Kona, Hawaii truly deserve a category all their own. With wing spans reaching 16 feet in diameter, these graceful giants cut through the pitch of the night waters with ease, providing divers and snorkelers alike with an adventure both humbling, and inspiring.
San Salvador Island, Bahamas
If white, sandy beaches and coral reefs are what you're looking for, then San Salvador won't disappoint. Warm waters and a variety of shark species make this a dive location you'll remember for a life time. For a truly unique experience, plan your trip for late October, and catch what's known as, "The March of the Spiny Lobster—" a mass movement of these usually solitary creatures from the shallow reefs to deeper water as the stormy season sets in.
Dive Midway
Almost more than the awe of the wreckage of a World War II Corsair lying belly-up on the ocean floor, the Laysan Albatross draws divers and tourists alike to Midway Atoll. Known for a unique landing style that all but removes gracefulness altogether, the albatross, hammerheads, and rich American history make Midway a highly sought after dive location.
Truk Lagoon (Chuuk Lagoon) Scuba Diving
If you're looking for a dive spot with variety, then Truk Lagoon is the place for you. Known as one of the best wreck-dive locations, Truk Lagoon holds more than 60 World War II air and watercraft, with a range of options for the novice diver as well as the more seasoned.
Bikini Atoll: Looking for more World War II artifacts resting at the bottom of the ocean? Then be sure to add Bikini Atoll to your list. While there are plenty of other options out there that allow you to investigate the raw state of these pieces of history, none compare to the quieting, awesome effect of swimming up to a sunken aircraft carrier or battle ship. This location is expensive both in necessary experience and funding, but the rewards are beyond measure.