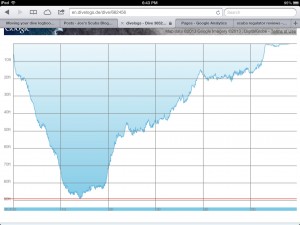 Online dive logs
In the early days of dive computers, uploading dive data to a personal computer wasn't even on the radar. My first dive computer was an Oceanic Datamax Sport, a solid computer that was compact, easy to read and simple to operate. It would store quite a few dives, but didn't provide a means for exporting them. After literally decades of logging my dives in paper logbooks (almost 3,500 dives, in fact), I finally bought a SubGear XP10, which made it possible to upload dives to a PC.
The problem is SubGear's Dive.Log software is PC only, and despite claims made by the manufacturer, a Mac (Linux would be unthinkable) version appears so far down the horizon, I gave up wishing for it ages ago. I've been keeping around a netbook running Windows XP just for logging dives and generating decompression tables with GAP. (See: Moving Your Logbook from PC to Mac)
That issue resolved, I've taken a great interest in logging dives online. First, I just think it is fun to be able to share dive profiles, dive site and location information and notes about equipment, conditions, sightings, etc. with divers from around the world. More significantly, it forces dive computer manufacturers to conform to standards or risk being displaced by computers that make it easy to upload data to any platform their customers wish.
I'll focus on what I think are the three best online dive logging websites: divelogs.de, PADI ScubaEarth and DiveBoard. I maintain profiles on all three, so I'm not advocating for any one of these to the exclusion of the others. Rather, my hope is to encourage as many divers as I can reach to share their experiences online and help build all of these into thriving online communities.
divelogs.de
Divelogs.de is a website that has been online for quite a few years and is clearly the most refined of the dive logging websites I'm profiling here. I learned about divelogs.de when exploring the capabilities of SubSurface, a multi-platform desktop program for logging dives, developed by Linus Torvalds, the developer of the Linux operating system. (More on SubSurface later…)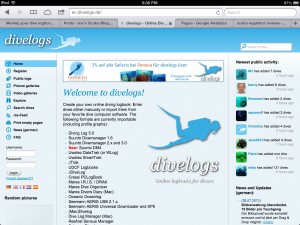 At first glance, divelogs.de looks like a project developed by engineers, which makes sense, because it is. All the functions are there. The menus make sense and the site is fast. Divelogs.de is also capable of importing dive data from just about anything. If you visit my profile, most of the dives that have actual profile data, were logged with the SubGear XP10. My most recent dives, however, were made with the Shearwater Petrel. Both live harmoniously at divelogs.de.
Access your dive logs from anything
The whole point of logging dives is to document your diving experience and to be able to recall information like weighting and exposure protection, environmental conditions, dive site information, etc. While dive computer manufacturers appear to be making incremental moves toward standardization, most are still proprietary. So, you buy a dive computer from brand X, load brand X's software into your computer and live with it. Thanks to divelogs.de, changing dive computers is a snap.
Divelogs.de provides an awesome range of export options. Here's the current list:
PDF
eBook with or without images from your dives
Google Earth
Excel
UDCF
DLD which is divelogs' own format containing much more data than UDCF (Thanks Rainer for the tip!)
Your diving log book as an eBook
If you're like about a zillion people, including me, your iPad or iPhone is a constant companion. Thanks to diveloge.de, you can now export your logbook into the epub format in the form of an electronic book. For travel, this means you can skip the paper logbook and demonstrate your experience like you would any other book. Between that, and PADI's eCard, you really don't have to carry anything else with you.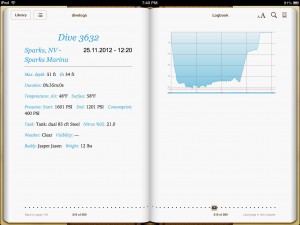 There may be a few dive operators out there who aren't quite tuned in with the digital age, so taking along your cards and paper dive log may still be a good idea, but I personally haven't had any issues. (I also haven't been anywhere very exotic for quite some time.)
I have to admit, part of the appeal of having my logbook in the form of an eBook is the cool factor. Flipping through pages of logged dives in iBooks, everyone wants to know how I get them there. The truth is I just click a button.
Map your dives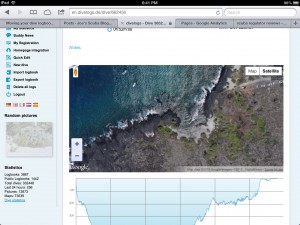 Another cool feature is the ability to map your dives. Stored with your other dive information, divelogs saves GPS data if you choose to include it. By location, once you have identified a dive site, every time you log a dive made at the same location, that information will be reflected automatically. This is not a feature exclusive to divelogs, but it is cool nonetheless.
What I believe is unique to divelogs.de is the ability to export dives to Google Earth. Next time I run a trip, I am excited to be able to hop from dive site to dive site using Google Earth to orient divers to what they can expect on arrival to each location. Once I have a chance to try this in front of a real group of divers, I'll be sure to post a followup.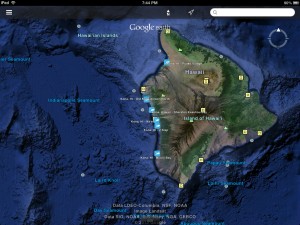 Other features of divelogs.de
If you haven't guessed by now, I am a huge fan of divelogs. While it doesn't share the high-end, polished look of the others, it is far and away more advanced in terms of function and integration.
I particularly like that it wasn't developed commercially–at least not to my knowledge. Divelogs.de is a program created by divers, for divers and it simply works. And, since the site is developed and maintained by divers, as technologies and needs evolve, so does divelogs.de. As a side note, that's one of the key reasons SubSurface is so powerful, but that's a topic for another article…
Diveboard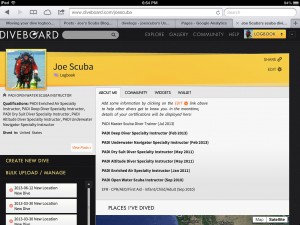 Diveboard was the first online dive community that I personally was impressed with enough to create a profile. I still like it. Some of the key features include dive logging (of course), mapping of dives, storing your certifications, diver to diver messaging, and photo galleries.
I like the way all of these features function, and love the look and feel of the site. In practice, I don't find myself actively using Diveboard like I do divelogs.de. Primarily this is because Diveboard isn't nearly as sophisticated in it's ability to import dives.
A quick look at my Diveboard profile shows a fairly sizable collection of dives, but they lack all of the important details about location, etc. The same exact file imported into divelogs included all of that information. Diveboard also breaks on import if the planets don't line up just right. So, while I like Diveboard a lot, and applaud the developers for doing a great job, the simple fact that I must manually edit individual dives makes it too time consuming to be practical if you have a lot of dives to add information to.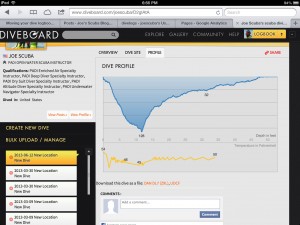 Once entered, Diveboard's dive profiles look beautiful. There are plenty of options for adding detail about individual dives and various locations, etc. I should mention with all of these websites divers have the option of keeping their information private, visible only to "buddies" or public.
One thing I really like about Diveboard is it's "Community." Basically, it is a blog but has quite a following among active contributors. Topics range from preventing regulator free flows to becoming a dive instructor.
There's also a gallery, where members can post photos or browse those that have been posted by others divers. Many are spectacular, and as the community grows, Diveboard is sure to add functionality. My guess is, eventually, Diveboard will provide better support for expanded import/export options, as well as many new features even they haven't thought of yet.
PADI ScubaEarth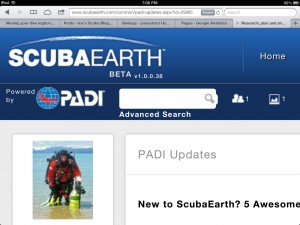 First, I can't emphasize enough that PADI ScubaEarth is in beta. As a PADI instructor, I am included in their surveys and have a bit of insight as to what's to come with ScubaEarth. As new features roll out, I'll be sure to include them. In the mean time, I'll give my opinion about the site in it's current beta state without being too critical.
The idea behind ScubaEarth is to create a global community of divers, resorts, PADI dive centers and related organizations. It is a huge undertaking and PADI is uniquely equipped to make it work. As the top certifying agency, PADI has incredible global reach, not only among certified divers, but with every manufacturer, retailer, independent instructor and others.
Basic features of membership to ScubaEarth include logging dives, a growing community of members, messaging, personal galleries and a "dive locker" for storing details about your equipment. That could be very handy in the event of loss or theft.
ScubaEarth also provides tons of great editorial content like featured dive destinations. It makes sense since PADI publishes popular dive magazines in addition to countless publications like books, videos, slates, marketing materials and who knows what else.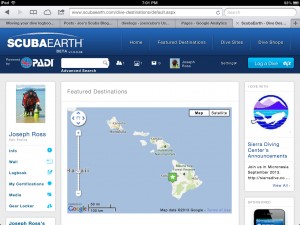 Site wide, ScubaEarth provides information about dive stores and resorts worldwide, along with a very Facebook-like "wall." All of this is very cool and done in the uber-branded, high-end way PADI is famous for.
If ScubaEarth has a weak link, dive logging is it. At present, dives can only be logged manually, so visual profiles are out of the question. One thing that's nice is that you can search for a dive site and, if that site has been logged previously, location details will be provided.
But, that doesn't change the fact that dives must be logged one at a time, and for those with lots of dives, it can take hours or days to plug in all the details. I have it on good authority that PADI is looking into options, but I have no way of telling if direct data import is in the works or not. One thing's for sure. PADI will do whatever it takes to make ScubaEarth the powerful, popular platform it invisions.
Final thoughts…
First, I'd like to restate my appreciation for the developers of each of these for having the vision and commitment to bring such great websites to the diving community. If you haven't already, I recommend you get online and create an account with all three of these websites, if for no other reason than locking up your favorite screen name.
I'm sure you'll find features in each that are worth exploring, and the more members each site has, the more motivated they'll be to add features and increase compatibility.
For me, the favorite, running away, is divelogs.de. I only discovered the site recently and instantly it's become part of my standard dive logging routine to upload dives (automatically from SubSurface, incidentally) to the site. At the same time I log dives, I create a new eBook and save it to my iPad. It's all effortless, with seamless ease of use that makes it feel more like a desktop application.
Give them all a try and please send me your comments, and let me know about others I may not be aware of. I'll look forward to profiling those too.