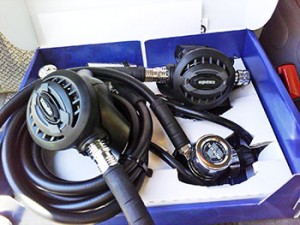 These are my new Apeks Tek3 regulators fresh from the dive shop on the front seat of my truck! They've been tuned but the zip tie on the long hose hasn't even been cut yet. I have been planning to get my hands on Tek3's for several weeks so I am pretty excited to get them configured and added to my rig.
I'm doing a lot of teaching over the next two weeks, so I'm not sure when I'll be able to actually dive them, but I'll be giving my review the minute I do. In reality, I already know I love them. Tek3's are made for tech divers using doubles and are top of the line regulators in every way.
Being environmentally sealed diaphragm regulators, they'll be exceptional performers during our deep, cold Lake Tahoe dives, especially in Winter, when we have too little sense to stay home and watch movies.
It'll be interesting to see how the hoses route. We all know the ports are directed straight down, which really cleans up the space around the valves, but I've heard a few complaints about sharp bends being required in some configurations. We'll see about that.
In any case, they sure do look cool. Now, I just need to find a space in my schedule to go dive with them!