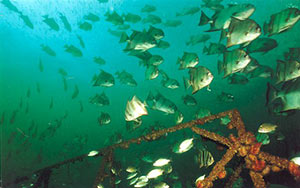 In an earlier post, I mentioned that most, if not all, dive boat operators would support and encourage any diver wishing to perform an adequate buoyancy check prior to making his or her first dive. The point was that I usually see divers just take a guess about their weight requirements and jump right in.
From the diver's perspective, no one wants to stand out or hold things up, so just "going along" is pretty typical behavior. With that in mind, I reached out to several dive resorts and boat operators to get their opinions. Here's what they had to say:
Coastal Scuba of Myrtle Beach, SC (I "borrowed" the picture above from their website) pointed out that they will general perform buoyancy checks with all divers prior to descending. Divers are encouraged to fine tune their buoyancy and weight requirements with each additional dive.
Bimini Undersea of Bimini, Bahamas made it clear that achieving neutral buoyancy for all divers is a primary goal. According to Troy Hooper of Bimini Undersea, "We do [a buoyancy check] for every diver on their first dive with us. And we work daily to achieve the best balance of weight for each one." As a side note, I spent a week diving with Bimini Undersea some years ago and can honestly say it was one of the best dive trips I've ever made. عمر واين روني I may try to put together a trip there for 2012 so stay tuned on that one.
Still waiting to hear back from some others, but the theme will most likely be more of the same. Dive boat personnel and resorts want all of their divers to be neutrally buoyant prior to getting near their precious reef systems. فريق لوس انجلوس So, next time you're on a boat, don't hesitate to get it right before making the dive. You'll enjoy the experience more, and be safer both to yourself and the sea life you came to see.