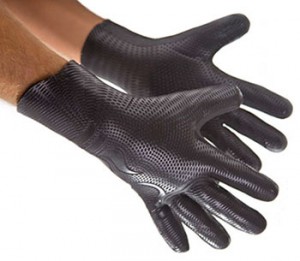 For a long time, I have been complaining about my dive gloves. For starters, I wore holes in the fingertips of my old Deep See gloves years ago, but have been diving with them anyway. For cold water, I have a pair of 3-fingered mitts I've been using, which are fairly warm but miserable to dive with if you have to actually use your hands during a dive.
At the suggestion of a friend, I decided to give Fourth Element 5mm gloves a try. I made my first dive with them yesterday. They are, by far, the best diving gloves I have ever used. They're perfect!
Maybe I am in the minority on this, but I don't think diving gloves need velcro, or zippers or super long cuffs or anything that isn't just part of the glove. Thankfully, Fourth Element gloves have none of that. As a result, unlike just about every other glove out there, they don't interfere with my drysuit seals. I also don't have to screw around trying to undo fasteners with my teeth and one hand.
The gloves themselves are incredibly well constructed. All seems are stitched, then glued. The glue fills the seams and is spread out over the stitching, making them pretty much bullet proof and darn-near dry. There's also a rubbery pattern that, I assume, is silk-screened over the entire outer surface of the glove. This stuff should improve wear also.
Fourth Element dive gloves seem to run just a bit smaller than other gloves. XL fites my hands about perfectly. Usually I wear a Large, and sometimes a even a Medium. I definitely don't have particularly large hands–if anything just the opposite.
So, even if you don't think you need new gloves, go out and buy a pair of Fourth Element diving gloves. They're just better, and will eliminate an annoyance you may never have realized you were suffering.