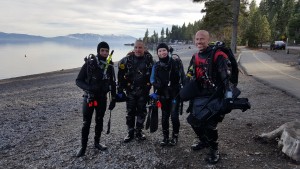 Scuba Diving Instruction
Learning to scuba dive is a lot of fun. It seems that everywhere I go, people tell me that scuba diving is "something I've always wanted to do." The great thing is that learning to dive is easily within reach of just about everyone.
Open Water Scuba Instruction
For most of us, it all starts here. During your PADI Open Water Scuba Certification course, you'll learn and gain mastery of the essential skills for safely entering the underwater world. The course offers a combination of classroom, pool and open water training, so you'll be comfortable and ready to get wet and begin exploring in just a few short weeks.
Open Water Scuba: Year Round Adventure
Believe it or not, you can learn to dive any time of year. Winter classes, at least the Open Water part, can be chilly, but still a lot of fun. We plan for the cold by wearing the proper exposure suit, and keeping dives short enough that you won't be uncomfortably cold.
Winter diving is great, often providing the best visibility of the year, but if that's not your thing, you can do the classroom and pool sessions here, then finish with your Open Water Dives on vacation! Imagine earning your open water certification by exploring warm, tropcal ocean reefs!
Adventure Dives!
The great thing about diving is that the learning never stops, and the adventure never ends. Once you become an Open Water Diver, you'll be forever changed. Your vacations will take on new meaning, and you'll choose destinations based on possibilities you never imagined. It's great!
Adventure Dives are your chance to experience deeper water, make underwater videos, even dive at night–all the while, working toward Advaced Scuba Certification! There are literally dozens of PADI Adventure Dive possibilities. By joining in the fun, you extend your capabilities and meet people who share your love of diving.