St. Croix Scuba Diving
Like pretty much every scuba diver, I've always been drawn to the Caribbean's gin-clear waters and spectacular marine life. St. Croix is promoted as a diver's paradise—it's no San Salvador, Bahamas, but there are some epic dive sites and unique underwater experiences for sure. If you are going, here are some of the island's must-see dive sites, from colorful coral reefs to eerie shipwrecks, through my personal, fins-on perspective.
Cane Bay Wall
Cane Bay Wall is one of those dives that's simply fin-tastic! The moment I hit the water, I was in my element along the jaw-dropping vertical coral wall that drops down over 3,000 feet. Gliding along the wall's dramatic edges, I was surrounded by a dizzying array of marine life, including sea turtles, reef sharks, and schools of vibrant fish. There is easy shore access, but I have only been there by boat.
The Frederiksted Pier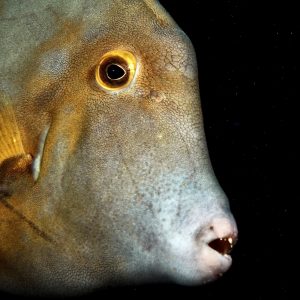 The Frederiksted Pier is awesome for new divers and beautiful for underwater photographers. The calm, shallow waters were perfect for me to focus on spotting the critters, like seahorses, frogfish, and sneaky octopuses.
This is also a great night dive. Lobsters, eels, and other night owls came out to play, and I even got to see the mesmerizing glow of bioluminescent creatures.
The site is shallow—20-40 or less. Every one of my dives here has maxed out around 30 feet. An experienced diver can get over 2 hours on an AL80, making this a great place to cruise around with a camera. I've heard Frederiksted Pier called "the best shore dive in the world." It's a pretty good dive, but that's over selling it a bit in my view.
The Northstar Bay
Diving at Northstar Bay felt like being in an underwater theme park. The Aquarium, one of the bay's dive sites, was bustling with a crazy variety of fish and invertebrates. Another site is Twin Palms, named for its two large coral heads that look like palm trees. The bay's crystal-clear waters, unique landscape, and incredible biodiversity had me itching to don my wetsuit and dive back in for more.
The Wrecks of Butler Bay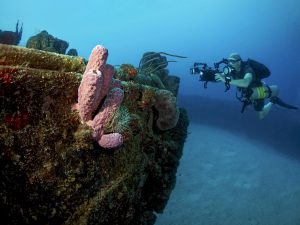 This was my first experience diving in St. Croix. The Rosa Maria, a 177-foot cargo ship, and the Coakley Bay, a 300-foot oil barge, are typical shipwrecks that have transformed into artificial reefs. It always strikes me how once-great vessels become thriving ecosystems. Even so, I'm not blown away with the diving here. The shallow depths of these wrecks made them accessible and enjoyable., but not particularly exciting for photo opportunities.
The Salt River Canyon
The Salt River Canyon, on the northern coast of St. Croix, was sold to me as a "thrilling dive adventure reserved for experienced divers." This expansive site features a series of deep canyons, tunnels, and swim-throughs, with depths reaching well over 100 feet. The canyon walls were adorned with vibrant coral formations, while its crevices were home to a multitude of fascinating marine creatures.
All this makes Salt River Canyon a spectacular dive site. The day I was here…. mostly sucked. It was a looooong boat riding getting pounded by the wind and waves, only to jump in to 4 foot visibility and 15 foot surge. If I wan in Monterey, California, I'd be stoked with these condition. In the Virgin Islands, not so much. In fact, the entire 20 minute underwater route to the wall FELT like I was diving in Monterey.
It was just a sucky day. I get that. Eventually, the visibility opened up at around 110 feet. This is definitely a GREAT dive site. I'd really like to dive it again. In good conditions, I think this may be a world class dive.
St. Croix Diving & St. Croix in General
Overall, I rate St. Croix about 2-stars as a diving destination. It's not awesome on land, and the diving is mostly average, with a few cool sites. However, St. Croix has the potential to be spectacular. It is a US territory, so no passport required for US citizens is a plus. As in industry, diving in St. Croix feels like an afterthought.
I feel like there are great dive sites yet to be discovered. There's not a buzz around diving like I would expect for such a place. Also, there's no support for advanced diving, technical divers or rebreathers, which is a bummer.
That said, will I go back? It's hard to say. Maybe…