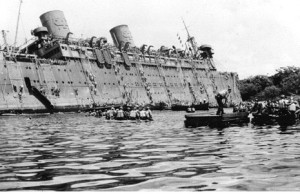 I just came across a blog by a diver in Australia (Read it here). He's an interesting guy, with obviously a lot of experience. Initially, I stumbled across it trying to find out how much actual diving experience Dave Shaw had prior to losing his life in a South African cave. Turns out, not a lot, but that's a topic for another day.
On his blog, there's a section chronicling a number of diving accidents. These always get my attention because there are lessons to be learned (or reinforced) from every incident. One such accident involved a woman named Laila, who didn't make it out of a shipwreck, the SS President Coolidge, in Vanuatu. Based on the description and accompanying photos, her skills underwater were clearly weak. Consequently, fingers generally pointed to her as the primary cause of her own untimely demise.
Since I believe people make their own decisions, that's probably true, but, something struck me about this particular diving accident. It isn't that another unskilled diver perished in an environment where she obviously didn't belong. Rather, it is the way diving on this wreck is described as being managed overall. Let me outline the situation as I understand it.
Diving on the SS President Coolidge
Only a few dive operators have access to this dive site, and unless you book through one of them, and hire their guide, you aren't going to be allowed to dive there. It's a shore dive, but it seems the property is private. Fair enough, but it's how they are said to conduct these dives that is frightening.
Depths can range in excess of 180 feet, if I remember right, so these guides (many of which, according to the author, are not certified as Dive Masters) place stage bottles in what's called the "deco area" and regularly conduct deep penetrations with divers that, from what I can tell, are not required to have decompression or wreck penetration experience. Based on the information provided, deep stops ("deeper and longer than typical") are employed and no diver is allowed to ascend to a shallower stop or surface before the guide signals it is OK. The dive plan itself is said to have been worked out using "very conservative tables," but exactly what that means wasn't defined. All this is presented as normal and safe.
What?! These are deep, decompression dives…
A topic that is commonly discussed in courses, from Open Water through Tec, especially during Tec training, is the concept of the "trust me" dive. These are dives in which untrained or inexperienced divers follow others into dangerous situations, on the assumption that the leading diver is equipped and prepared to get them safely back to the surface when something bad happens.
This appears to be standard procedure for diving the SS President Coolidge. Recreational divers are penetrating the wreck and conducting decompression dives on the belief that everything is just fine as long as the divers follow one of the "experienced guides."
The author, at one point, mentions "technical" divers in quotes in a way that I took as condescending, which surprised me. There was also what I read as a jab against divers using doubles in recent years as the preferred kit for exploring the wreck. Huh?
The reality seems to be that these dive operators are conducting challenging dives with untrained divers as a matter of policy, and passing the practice off as safe, based on the undocumented "experience" presumed by the guides.
Following a guide is not dive planning
Like every other trained technical diver, there is no way I would do a deco dive in any environment without generating my own deco profile and planning for, and personally analyzing, every gas I am about to breathe. On top of that, neither would I do a dive without the equipment configuration (doubles, redundancy, etc.) that is appropriate for the type of dive.
As I see it, here are just a few of the factors that make these dives on the SS President Coolidge dangerous.
⁃ Divers are not required to be equipped or trained to deal with issues on their own, and a direct ascent to the surface is not possible once a decompression ceiling exists.
⁃ Dives are conducted using standard, recreational scuba gear. No redundancy means no backup in the event of even a minor equipment failure.
⁃ Insufficient gas. Laila repeatedly breathed her single cylinder down to the last few PSI, yet kept diving using the same kit.
⁃ No gas reserve. Divers are swimming around using turn pressures appropriate for safety stops, but not for deco stops.
⁃ Divers could be breathing anything. Every diver should personally analyze every breathing gas and label the cylinder as his/hers. Nothing in the blog indicates this is happening.
⁃ No agreed upon dive plan. With technical dives, a lot of energy goes into planning the mission. Make no mistake, these are technical dives.
The proof that these dives are dangerous is that a woman died because she trusted her guide. Had she been required to demonstrate the proper training and experience, she would not have been allowed to dive. She might be upset, but she would be alive.
Interestingly, a news piece was published locally (Read the story) that describes the events surrounding the incident very differently than outlined in the blog.
Obviously, I wasn't there. I've never been there. And, I don't know any of the people involved. Based on his other blog posts, the writer is most certainly a skilled diver, and I agree with his opinion about Dave Shaw's death, tragic as it is.
I didn't see anything on the dive operator's website or other source to make me think that dives are conducted differently than I am lead to believe. That said, I don't have all the information. I can't possibly get all the details of everything that goes on with a diving operation half way around the world. Regardless, it underscores just how significant a responsibility it is to coordinate and lead dives.
As a scuba instructor, diver's put their faith in me to get them safely in and out of the water. It is my responsibility to recognize when a situation may be unsafe and take the appropriate measures to make sure no one gets hurt. Sometimes that means not diving.
Based on the news piece about the incident, the deceased diver was a competent "rescue" and "deep" diver. But, the blog describing the same incident has actual photos. Fact is, she wasn't a competent open water diver, let alone rescue or deep diver (I am an instructor for both). I don't care what specialty certifications she carried, she looks in the pictures just like the hundreds of students I've taken on their first open water dives—vertical in the water, thousand yard stare, no indication of situational awareness, the list goes on.
So, who was at fault?
Laila was going to dive, but there's one picture online showing the very same guide with her after clipping on a stage bottle when she ran dangerously low on air. He knew what her skills were like and took her anyway. Maybe he was getting pressure to serve a paying client, or maybe he was just going through the motions. Maybe, she did turn back and re-enter the wreck on her own. Who knows?
The guide took her deep. The guide took her inside the wreck. The guide is the one person with a direct duty of care while the dive was taking place. He decided how deep they would go, and whether they would remain outside or penetrate the wreck. Allegedly, there was evidence of Laila desperately trying to claw her way out. Not pleasant. Had she not been inside in the first place, she'd almost certainly have bolted to the surface. She might be bent, but in my view, time in the chamber beats time in a coffin.
The blog post places the majority of blame on the victim, and there's certainly responsibility there, but it's the guide who took responsibility for all aspects of the dive. He took her inside knowing she was a weak diver. Draw your own conclusions, but if operators really are conducting dives as I understand them to be, this death won't be the last.