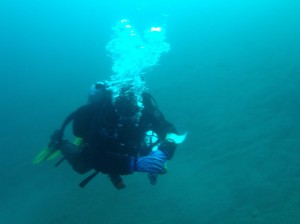 Earlier, I was semi-involved in a discussion about terminology regarding no-decompression diving, or diving within the no decompression limits (NDL) that define sport or recreational diving. I suggested that every dive is a decompression dive. I'm not the first to make that assertion. The theory goes like this.
The pressure gradient encountered by divers when ascending from even relatively shallow depths, and for short durations, is such that there still exists a decompression risk. Although rare, data show that divers have been and continue to get bent even when diving well within the no-decompression limits.
In diving, the no decompression limit (NDL) represents the maximum bottom time for a given depth, that a diver may stay without being required to make explicit decompression stops during ascent.
Safety stops do not represent a deco obligation
Before I go on, the 3 minute safety stop you learned during your open water diver course is not considered a decompression stop because it is not technically mandatory. I'd adds safety to your dives, but is not included as part of the mathematical wizardry used to calculate the no-stop limits. remedio para piolho para tomar As an example, the PADI Recreational Dive Planner allows a 55 minute bottom time (sea level, salt water, first dive of the day) on a dive made to a depth of 60 feet. Thus, the NDL or no-decompression limit at 60fsw is 55 minutes, regardless of whether the diver makes a safety stop or not.
Back to the topic. The argument is in the terminology. PADI, in the new Open Water Diver course for 2014 has stopped using the term "no decompression limit" in favor of the term "no stop" limit. It has been suggested that describing such a dive as no stop is not only confusing, but inaccurate. I personally side with PADI on this issue.
Just because no stops are required does not mean that no decompression obligation exists
Arguments opposed to the idea that every dive is a decompression dive, included a list of natural occurrences that result in a pressure gradient relative to human tissues. Additional points about the affects of flying were made as well. como tomar simpiox
However, none of these (with the possible exception of data related to U2 pilots above 70,000 feet altitude) result in a pressure gradient anywhere near that, which even a shallow water diver experiences. Even our diver at 60 feet, does in fact, have a decompression obligation. (Notice I said decompression obligation, and nothing about decompression stops.) It is in the form of a slow ascent rate. Most agencies recommend an ascent rate slower than 60 feet per minute. Further, it is standard among many agencies to recommend an ascent rate of only 30 feet per minute. Regardless, a slow ascent is not optional, specifically for the purpose of decompression.
Remember? Slowly Ascend From Every Dive
60 feet (or 30) per minute is the accepted standard by which divers can reasonably expect to off-gas nitrogen at a rate faster than what would result in bubble formation. In other words, fast ascents can get you bent, even if you are well within the no decompression limits and defined by dive tables.
Therefore, if it is possible to experience decompression sickness (the bends), even on "no decompression" dives, is it accurate to refer to them as "no decompression?" I say, no. These are "no stop" dives, yes, but to be safe, the diver still must undergo sufficient decompression, just in the form of a slow ascent.
As a final case in point, what happens to a diver that bolts to the surface from say, 100 feet? The obvious answer is, he is very likely to experience a DCS (decompression sickness) episode. Why? Because of adequate decompression. Therefore, all dives are decompression dives. Agree or not?