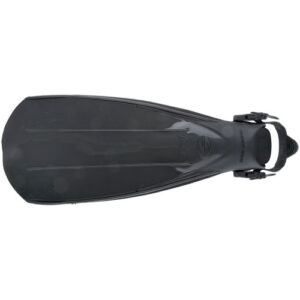 Dive fins have undergone a revolution in recent years. In addition to countless designs using every material imaginable, split fins, fins with hinges, unique venting options, spring straps and every shape imaginable dot scuba diving self propulsion landscape. Despite the incredible range of options, a few of us divers simply want a fin that will push water and feel comfortable throughout the dive.
The Deep See Pulse dive fin by Aqualung is just the ticket for divers that prefer a paddle fins. Personally, I decided on the Deep See Pulse because it is similar in size to my beloved Apollo Prestige but lighter for traveling, and very inexpensive.
So, new fins in hand, er foot, I rushed out to make some dives. The first thing I noticed is the foot pockets seem to handle my large DUI Rock Boots better than the Prestige. I was concerned about this because the appear to be narrowing. Apparently, that's an illusion because they slipped on with little effort. The shape of the Pulse's foot pocket keeps the fins snug but not tight. So far, so good.
Once I started kicking, I immediately noticed the difference in stiffness compared to the Apollos. The Deep See Pulse is quite a bit stiffer. I can see how some divers would find that uncomfortable. On the other hand, stiff blades respond to very subtle movements, so I've always liked that-especially when taking pictures or shooting underwater video.
So, the bottom line is the Deep See Pulse is a well made, moderately stiff fin that's light weight and feels good in the water. Split fin lovers will probably not like it much, while traditionalists like me will like it a lot. I've made about 40 dives with the Pulse so far and feel that I made a good choice. It's also a great, no frills, fin for tech.