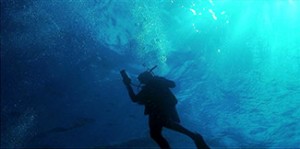 http://news.yahoo.com/scuba-divers-left-behind-florida-172315719.html
Scuba divers left behind in Florida
It seems like every other year or so, we read this headline about SCUBA divers somewhere in the world having been left behind by the dive boat. There they are bobbing in the abyss, waiting for someone to motor along and pluck them from Poseidon's grasp.
It amazes me how a dive boat can actually pull up anchor with fewer people on board than it had arrived with. One might argue that there were many passengers on board, so it was hard to keep track of them all. In that case, I would assume that more than one Divemaster would be keeping track, and besides, haven't they learned to use a clipboard??
Fortunately, this pair was picked up by another boat captain after about two hours clinging to a buoy, but seriously, I can't imagine how such a thing could ever happen.