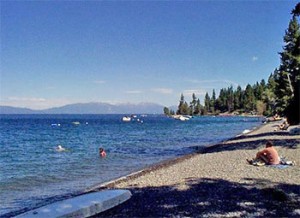 Anyone who dives Lake Tahoe knows that it is spectacular in terms of surroundings, clear water and fairly good access to most dive sites. We, as Lake Tahoe divers also know that the water is cold, and aquatic life relatively limited. As a result, I sometimes hear divers say things like, "oh, it's just Tahoe," or something similar.
Most often, that attitude comes from those who dive one location; Sand Harbor . Sand Harbor is very likely the first open water dive site these individuals ever dived, and probably the site they go back to to make Tahoe dives. It's also a fun place to go, especially in the Summer, even if you're not diving, but it is by no means the only dive site on the lake, or even representative of every other Lake Tahoe dive site.
Another is Hurricane Bay , located a few miles West of Tahoe City on the California side. I love diving Hurricane Bay. On the bottom, you'll find a gravel covered steep slope, which quickly descends into very deep water. I'm not sure the exact location, but somewhere near the midsection of the bay at 60 feet lies the wreck of the Alley Cat, a 20-something (my estimate) sailboat resting on her port side. 777 Since there are very few accessible wrecks in Lake Tahoe, this is a fun diversion.
The site makes a great technical dive due to easy access to deep water as well as the fact that you can park just yards from your entry point. It is an active buoy field so vigilance with regard to boat traffic is critical.
I don't think Hurricane Bay is an ideal location for new divers simply because it gets deep so quickly. Once buoyancy control has been mastered, though Hurricane is a pretty straight-forward site to dive. العب كازينو
So, for easy access, great visibility, and new things to explore, I'd put Hurricane Bay on the list of must-visit dive sites in Lake Tahoe. أجويرو